Description
The FSA 45 grass trimmer / brush cutter is perfect for trimming lawn edges in smaller gardens. It is lightweight, quiet and simple to use, with a built-in Lithium-Ion battery that you plug in and charge, like you would charge a phone.
The LED charge level indicator on the side of the tool shows you how much battery life is left at the touch of a button. The loop handle helps you to guide the trimmer exactly where you need it and is easily adjusted without the need for tools. The shaft is also extendable, whilst the mowing head can be turned on its side, which is particularly useful for vertical edge trimming.
The FSA 45 comes with plastic Polycut blades, which are really quick and easy replace, without having to use any tools. They are extremely efficient and give a precise finish to the lawn. Pre-cut mowing line can also be fitted to the head but it is not included with the FSA 45 and will need to be bought separately.
Run time: Up to 20 minutes
Charging time: 100% in 210 minutes, 80% in 145 minutes
QUIET TECHNOLOGY
The STIHL Compact Cordless System tools are so quiet you don't even need to wear ear protection.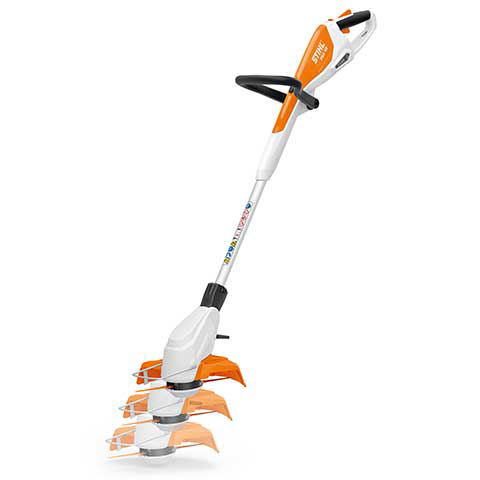 ADJUSTABLE LENGTH SHAFT
Adjustable by up to 170mm, the shaft length can be easily adapted to suit your height or the job in hand.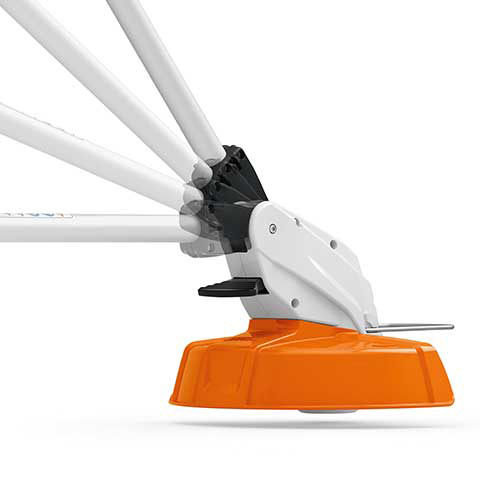 ADJUSTABLE MOWING HEAD
This versatile mowing head can be adjusted to four different angles, up to 48 degress, to suit all mowing tasks around the garden.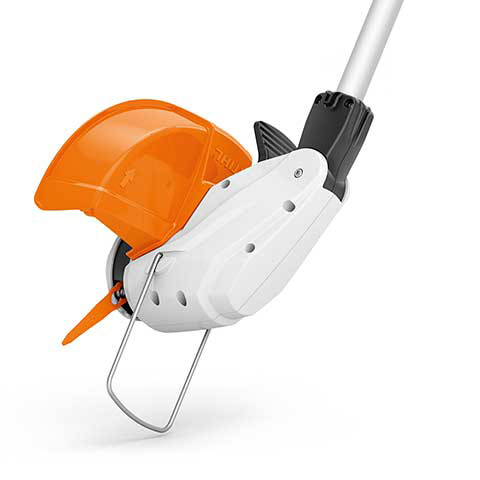 VERTICAL EDGE TRIMMING
The rotating head can be simply adjusted through 90 degrees to change the tool from a grass trimmer into a edger, so you can accurately trim around borders, flower beds and pathways.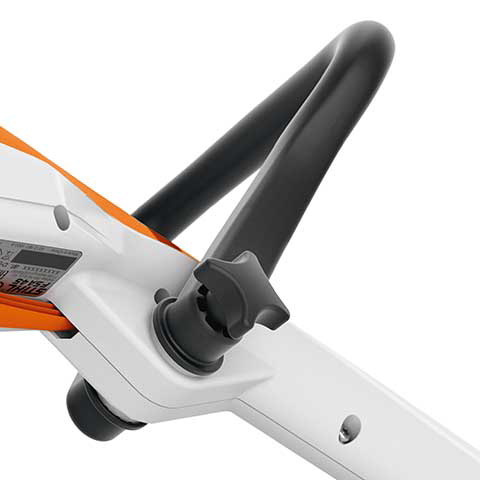 ADJUSTABLE LOOP HANDLE
So that you can work in the most comfortable position for you, the loop handle can be adjusted to 6 different settings, up to an angle of 120 degrees.
CHARGE LEVEL INDICATOR
So you know how much charge you have left on the battery, the charge level can be viewed at any time with the four LEDs on the side of the trimmer.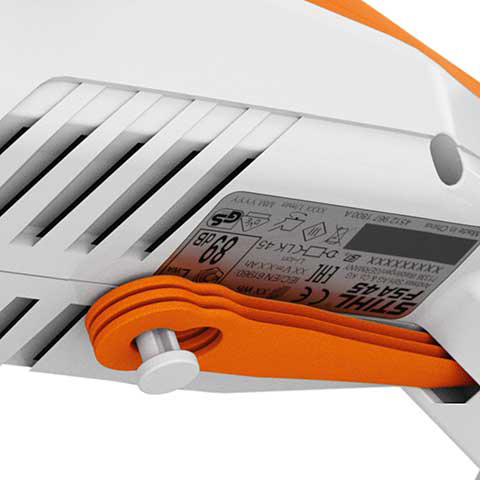 SPARE BLADE STORAGE
The FSA 45 uses PolyCut blades, which can be easily replaced if worn. Up to five spare blades can be conveniently stored on the tool so they are always at hand when you need them.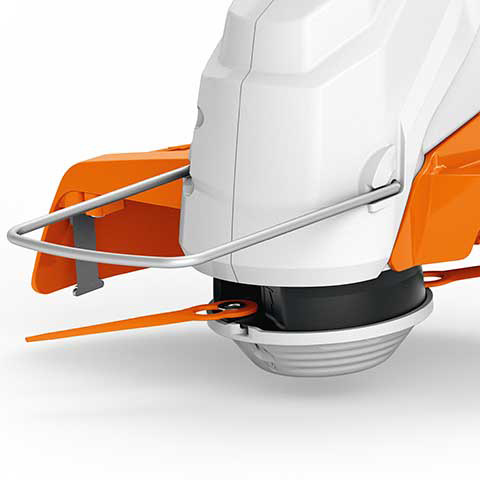 SPACER BRACKET
The metal spacer bracket means you can trim precisely around trees, plants and other objects. It can also be folded up if not needed.
ACTIVATION TOOL
The tool can only be used with the activation key. If the key is removed, the tool switches off to prevent it being started accidentally. The FSA 45 can then be safely stored and transported.
CHARGER CABLE
The built-in battery in the STIHL FSA 45 is easily charged using the charger cable.